Dolls by Nasiba Akhmedova – is the fate, lost in time story of someone who once lived and worked, fought and suffered, sang, played and disappeared in the sands of eternity.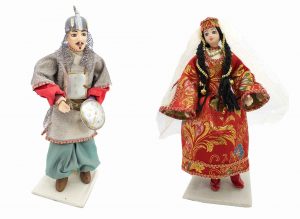 Nasiba Akhmedova began to learn the craft unexpectedly. As the master said "I couldn't even to draw and didn't love history". Time, tenacity and faith turned Nasiba into a skillful master, knowing the history of her region in details. Nasiba Akhmedova is the only master in Uzbekistan, and perhaps in all of Central Asia, who so scrupulously in making the dalls. The process of creating begins with an idea whose story the master wants to tell this time.
It is important to note that at the second stage of the sculpting of ceramic base of the doll joins her sister. And surprisingly she also never studied separately the sculpture. She just wanted to support her sister in the new venture, to believe in her work and move on together.
Then Nasiba proceeds to the application with the colors. When the accents placed, the doll has its own character and age.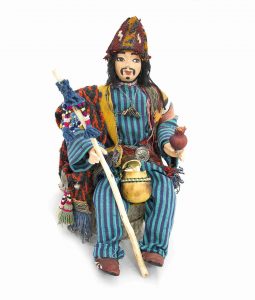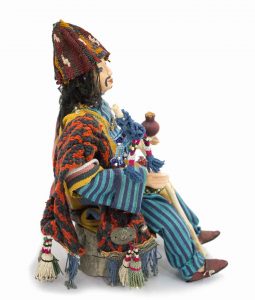 The amazing feature of each doll of Nasiba is its uniqueness. Each item of clothing meets the characteristics of described time. Most often the master uses vintage fabrics. The most interesting thing on this stage is to search of the relevant fabrics and accessories. This is not an easy path that the master has to pass trying in every corner of the country to find old, sometimes undervalued by their owners' fabrics for the clothes of the dolls. When the cloth is found, the cut of the clothes starts. Every detail is thought out. If a woman is married, the sleeves on the top dressed as a burqa robe will be bonded at the back. A number of decorative tufts will talk about the number of her children. If the woman is not married, the sleeves will not be bonded. Revealing the secrets of usages in clothes of the end of 19 – beginning of 20th centuries in Central Asia master shows how skillfully the women used their hats. Hard to believe what was put in a hat, using it as a modern bag. Women's headdress is intentionally increased and transferred in a hidden accessory: keys, money and anything else we may not even imagine. Apparel of each doll tells not only about the character and the time but also about the region in which lived people.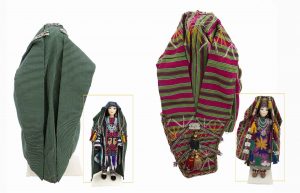 We should also to say about jewelry in which the master dresses her dolls. Most of them are also vintage and differ with their own unique style of stamping and design of that time.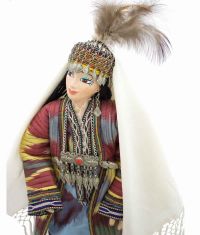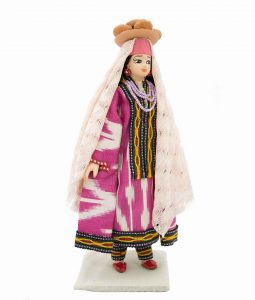 That's why Nasiba says, you can duplicate the image, but the details are impossible. Dolls of Nasiba Akhmedova are as people not similar to each other. In every house will enter the one with its own history.